London is of thriving hive of global business, government, education, entertainment and tourism. But, wander away from the urban throngs and major attractions– perhaps down a little lane on the other side of a tiny park — and you'll find the quiet side of London's quaint in-town neighborhoods. Whether you're a seasoned traveler or first time visitor to the British capital, choose to discover the lovely and lively villages of London. With their charming shops and gourmet markets, historic pubs and pretty gardens these are the enviable areas Londoners call home.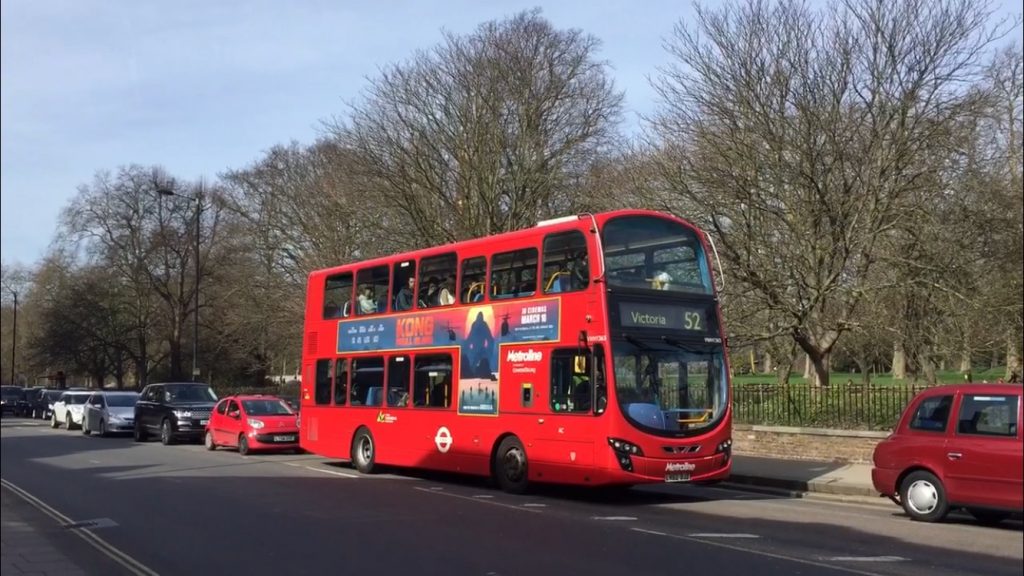 From the double decker buses scooting along busy city streets to the glittering crown jewels in the Tower of London, the iconic sights of London attract millions of visitors. History buffs, theater fans, food lovers, fashion followers, antique collectors, art admirers and royal watchers are all drawn to London for a jolly good time.
However one of the strongest trends in travel skips the usual stops on the tourist map and seeks local character. Escaping the hubbub of center city hotels, many travelers prefer more intimate lodging near the every day charm of corner pubs, quaint cafes and charming shops.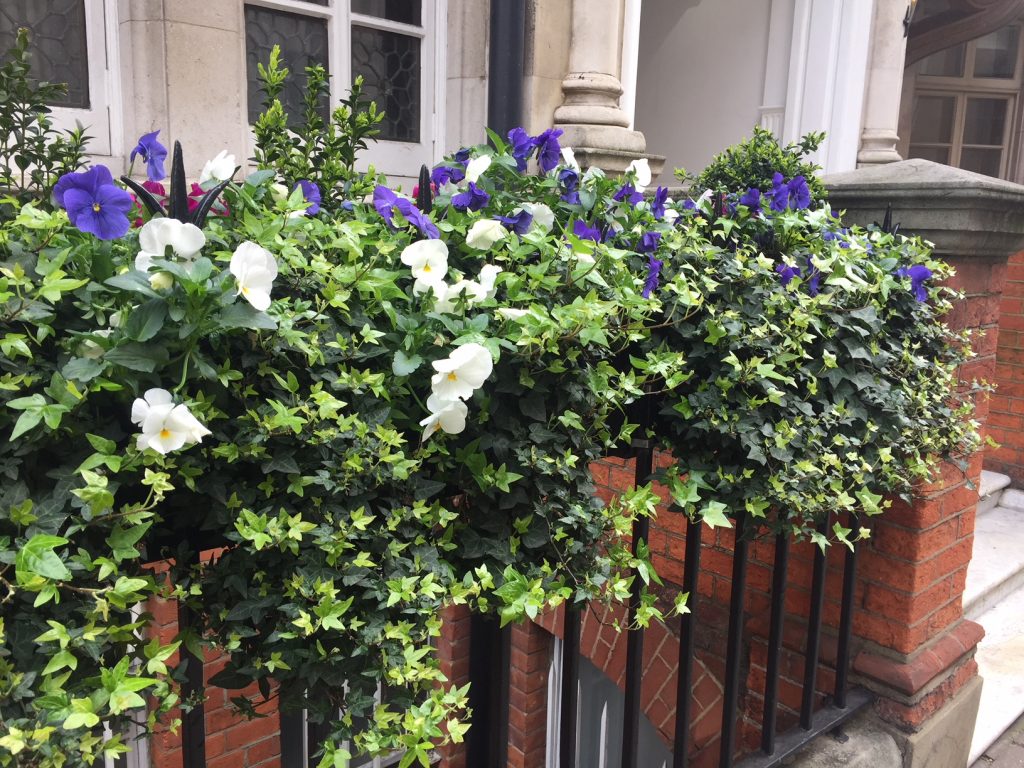 Happily, London is ready to roll out the welcome mats in the character-filled neighborhoods that make up the exciting tapestry of this extraordinary city. Whether you choose your base of operations near a park to fit in a morning run or a few steps from a favorite museum, the friendly folks at small luxury hotels in these areas are poised to hand you an umbrella if it looks like rain, pour you a cup of tea, or stir up a handcrafted cocktail.
Now join me as we journey on a terribly fun trip through a trio of very different villages of London.  The first two feature the unique hotels of The Doyle Collection. https://www.doylecollection.com
Kensington: Roses and Royals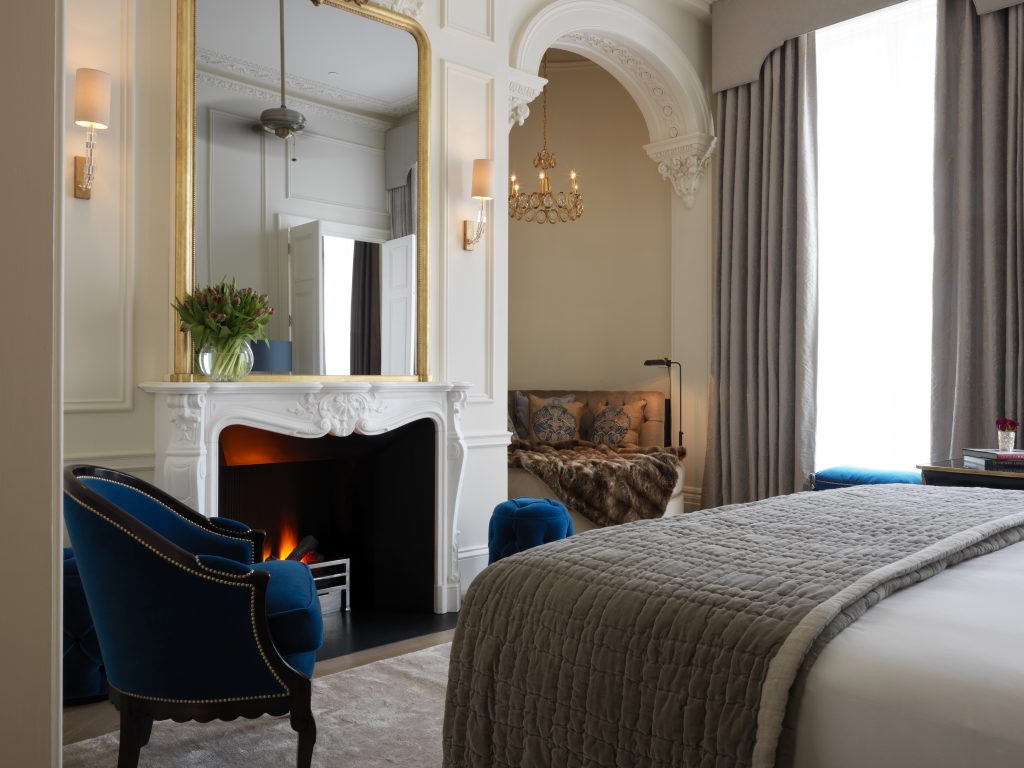 Designated the Royal Borough of Kensington, this is the home of Prince William and the Duchess of Cambridge who live with their little royals in Kensington Palace located on the edge of Kensington Gardens.
Kensington Palace is open for public tours of its regal rooms, lovely sunken gardens and the Memorial Playground built to honor Diana, the late Princess of Wales.
Keep walking as you smell the roses and you'll enter Hyde Park with its horseback riding trails and boating on the Serpentine, a 40-acre lake.
South Kensington is known for its stately rows of white townhouses on the main thoroughfares and hidden lanes that lead to wine bars, cute boutiques and rose scented gardens. The Doyle Collection's chic Kensington Hotel https://www.doylecollection.com/hotels/the-kensington-hotel on Queen's Gate fits right in with the elegance of the area.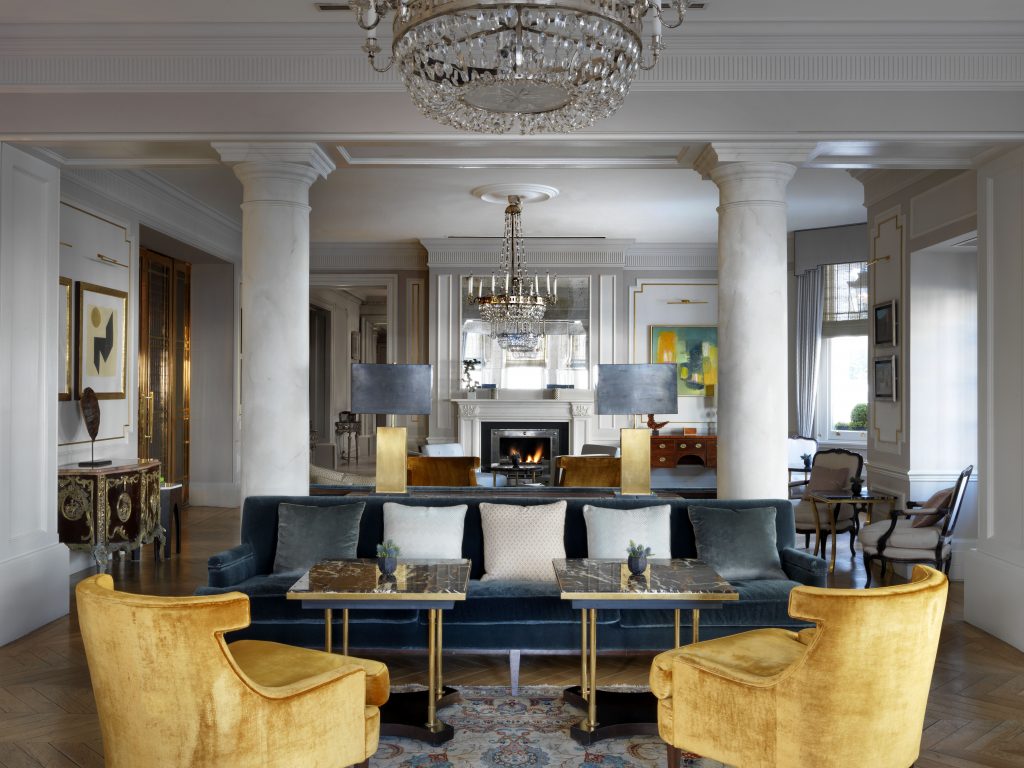 The lobby drawing room where you can settle into comfortable couches with a morning paper or afternoon tea makes you feel as if you're living in an ultra-luxurious private home.
The contemporary yet cozy Town House Restaurant is the heart of the hotel serving seasonal menus from full English breakfasts to a la carte dinners featuring a delicious range of choices from a super foods salad with grilled organic salmon to a dry aged beef filet with peppercorn sauce. Need a pick me up? Don't miss the special menu of fresh smoothies and juices. Or maybe you'd rather just look for the 'hidden' whiskey bar.
The spacious guest rooms at The Kensington are sunlit through tall Victoria style windows by day and glistening crystal chandeliers by night. Footed tubs invite a relaxing soak after a busy day museum hopping or perhaps serious shopping.
On the edge of Kensington you'll find the legendary London department stores, Harrod's and Harvey Nichols, are in walking distance.
Other Kensington "must-sees":
The Victoria & Albert Museum is world renowned for its inspiring collections focusing on art and design. Free admission. Don't miss the sparkling exhibit of jewelry through the ages.   https://www.vam.ac.uk
The Natural History Museum is filled with butterflies to dinosaur bones. Free admission. You'll find mineralogy, entomology and every 'ology' on display but avoid the long lines on Sundays. http://www.nhm.ac.uk
The Royal Albert Hall literally glistens with a gold leaf interior and is considered one of the greatest concert venues in the world. Make sure to check the performance schedule and book ahead. https://www.royalalberthall.com
Marylebone: Buttons and Bows and Baker Street
A glamorous urban village, Marylebone, is fashionable and friendly. Small specialty shops thrive here including the go-to boutiques for buttons and bows with aptly named The Button Queen and VV Rouleaux for beautiful ribbons. Fine leather goods, from passport holders to billfolds are monogrammed to order at Aspinal of London.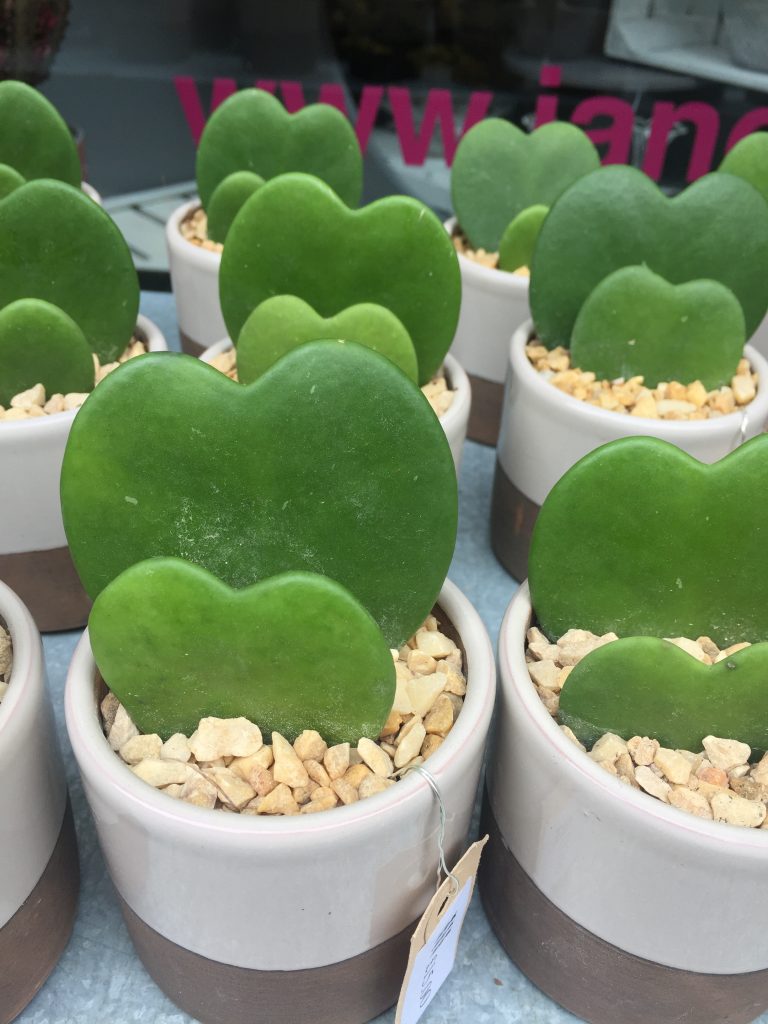 Musts in Marylebone. 
There are two historic musts in Marylebone. The Wallace Collection in Hertford House is a dizzying array of privately collected paintings and porcelains and a goose bump walk through rooms of medieval arms and armor.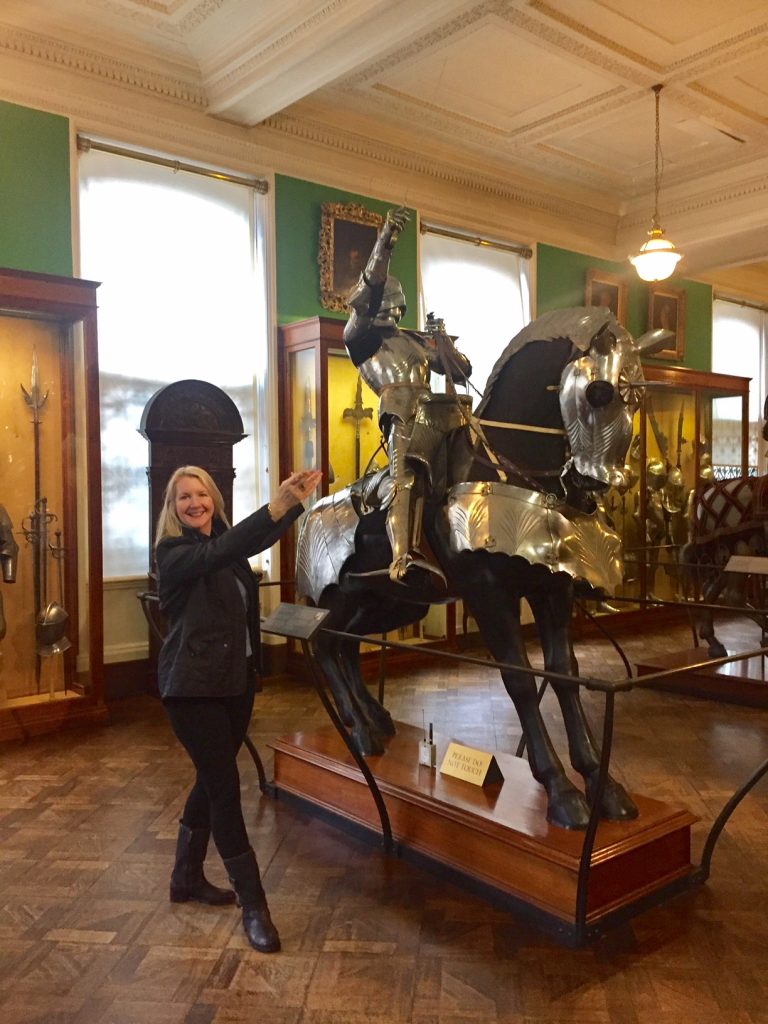 Sherlock Holmes fans should march straight to 221-B Baker Street where the museum recreates the fictional living quarters of Holmes and Dr. Watson.
Marylebone dates back to the days of dueling but today its more about dining at celebrity filled hot spots such as The Chiltern Firehouse where there's heated competition to get a reservation. Are you ready for this? The menu's top sellers include Southern fried chicken and bacon cornbread.
Other culinary meccas in the area include The Ginger Pig, and La Fromagerie Cheese Shop.
Marylebone Hotel is Home
Located walking distance to just about everything is the Doyle Collection's Marylebone Hotel https://www.doylecollection.com/hotels/the-marylebone-hotel with sleek modern rooms and the chic 108 Bar & Brasserie. If you want to take your trip over the top book a rooftop suite with a spacious deck complete with outdoor fireplace, literally overlooking the rooftops of London.
Call down to the bar to order a fine bubbly, such as Nyetimber Blanc de Blancs, grown and bottled in Sussex, England. Toast to the Queen. She drinks it too.
Mayfair Lady Meets The Beaumont
The Beaumont Hotel is a jewel placed on a quiet garden square in the top hat and tails neighborhood known as Mayfair. Small and intimate with only 73 rooms, the design of the public spaces greets you in the style of a grand hotel. It's art filled and joyful with Art Deco elegance of the 1920's. My first day here began with a walk to Green Park and lunch at The Wolseley.     Then it was off to Selfridge's.  Now that's a department store!