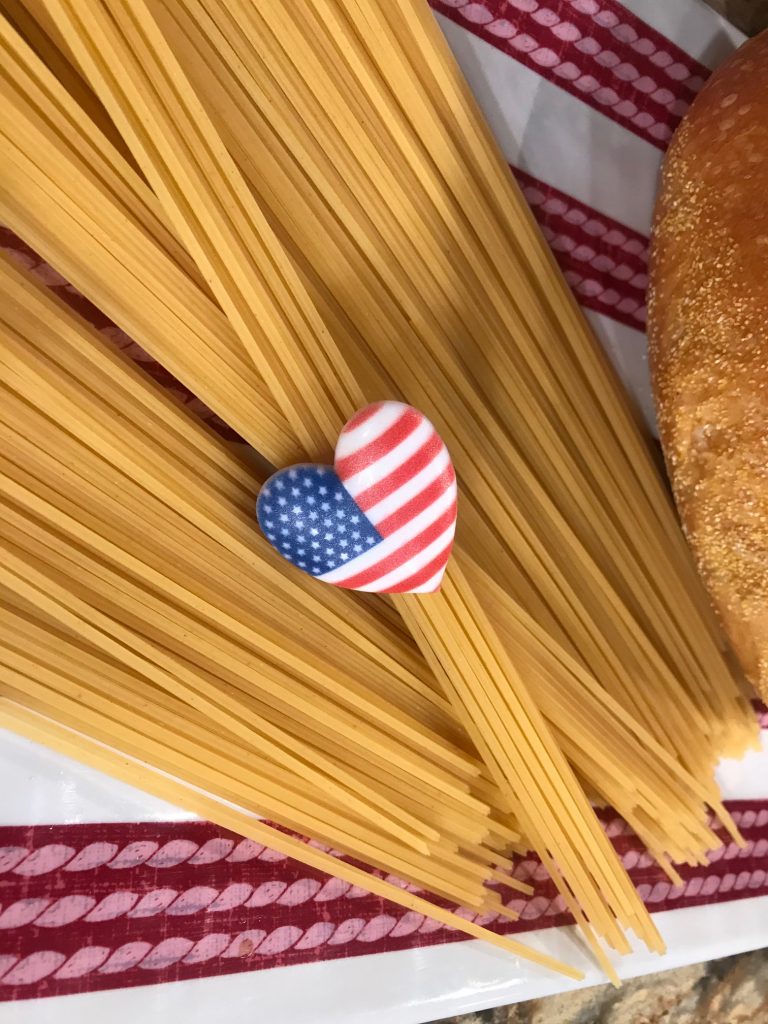 Pasta is on the list of best foods to keep on hand in your pantry, so during the big grocery store stock up games of recent weeks, the shelves that used to be stocked with pasta are often empty.  The cupboard is bare. But, all you need is some flour and eggs and you're ready to make your own pasta at home.
Plus, it's a great activity as we all stay home and cook together. This recipe is for a ravioli shape called tortelli. It's filled with ricotta cheese and chopped spinach. I learned to make this and learned that I could make this at a cooking school in Itlay.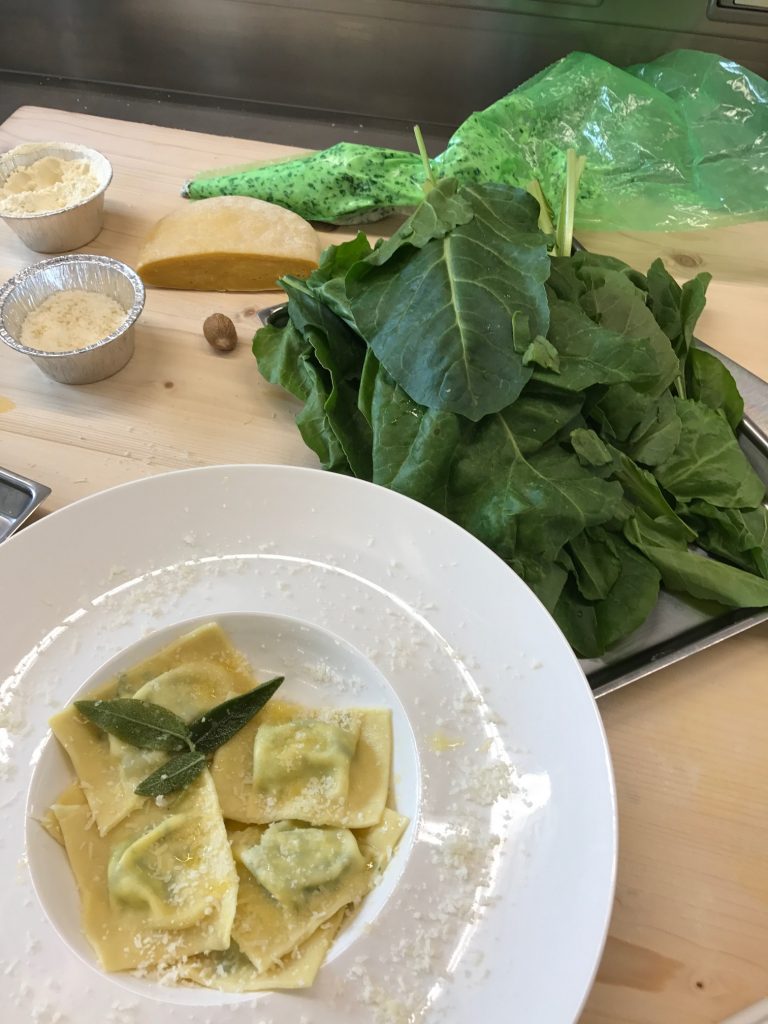 Tortelli di Erbetta
Recipe from ALMA Italian International Cooking School, translated by Carolyn O'Neil, www.thehappyhealthykitchen.com
This is a traditional pasta dish from Parma in the Emilia Romagna region of Italy. Tortelli are filled with a mixture of Parmigiano-Reggiano, ricotta, mascarpone, and greens such as Swiss chard or spinach. The pasta is made with soft flour and eggs and can be square-shaped like ravioli or twisted into a hat-like shape. The filling in this recipe is seasoned with grated nutmeg and served with a sauce of butter and fresh sage leaves. Serve as a first course or a side dish. 
RECIPE: serves 10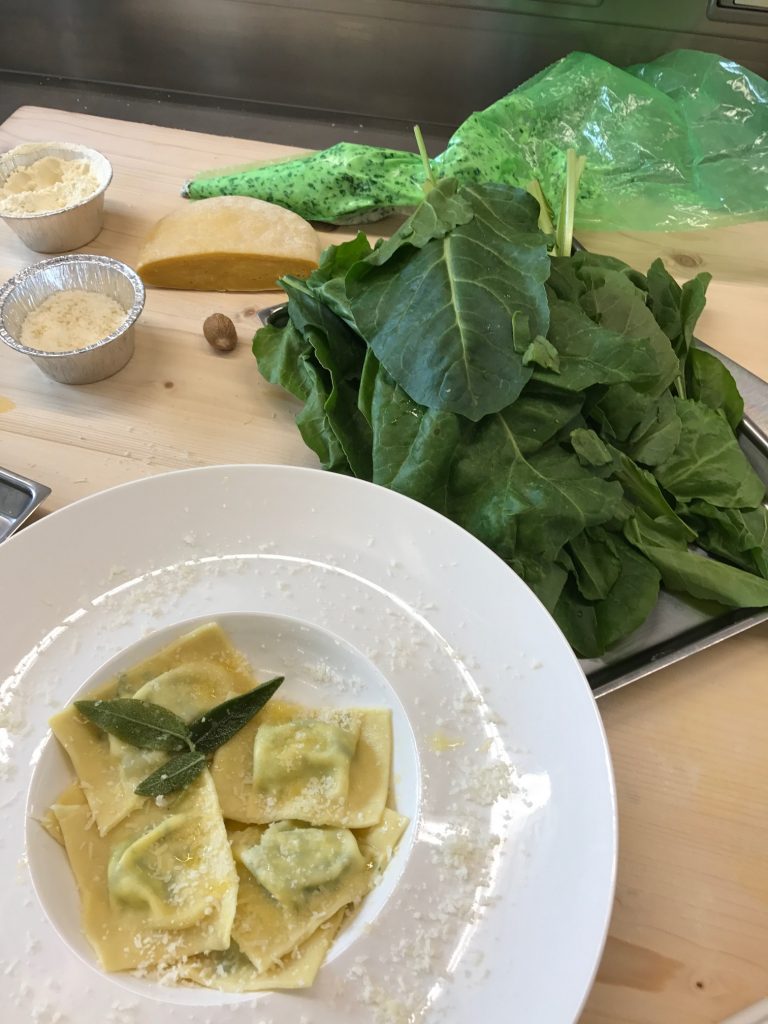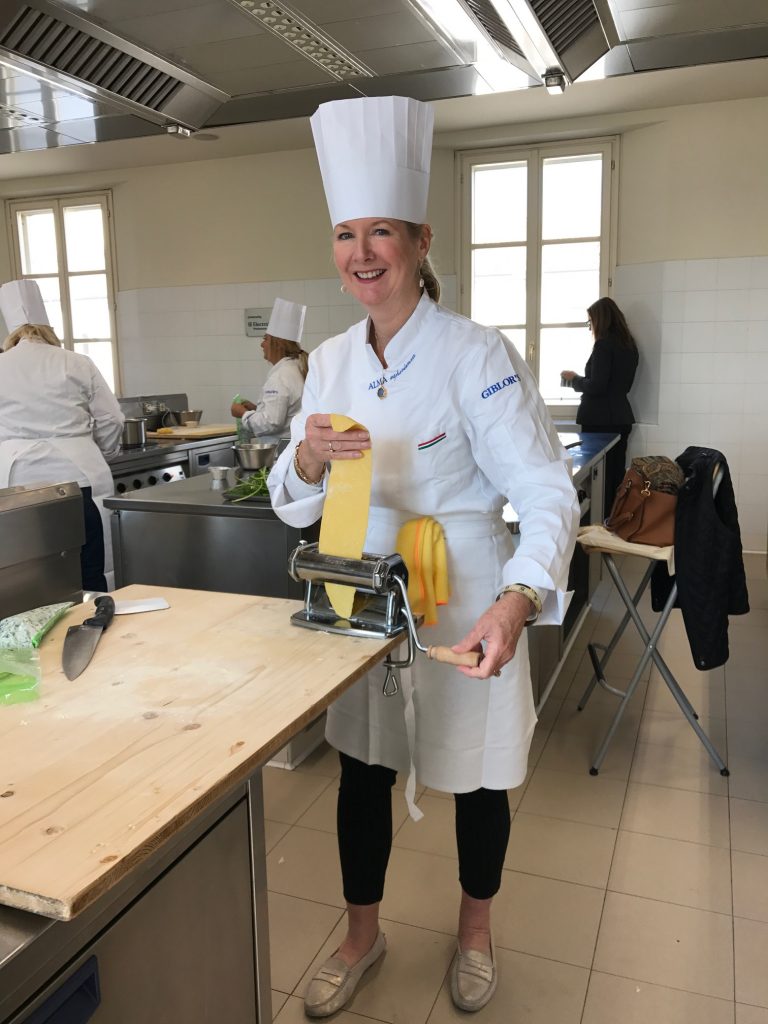 Overview of directions: Make the pasta first and let it rest for 30 minutes. While pasta is resting you can make the filling. Roll out the pasta, place dollops of filling on pasta sheet, fold over and press to create closed tortelli and then cut into the square shapes. Place in boiling salted water for 3 to 4 minutes, remove and serve with the butter sage sauce.
Pasta:
2 cups flour (plus a few Tablespoons if needed to flour the board during kneading)
3 eggs
½ teaspoon salt
Make a mound of the flour in the center of a large wooden cutting board. Make a well in the middle of the flour and add the eggs and a little salt.
Using a fork, beat together the eggs and incorporate the flour starting with the inner rim of the well. As you expand the well, keep pushing the flour up to retain the well shape. Do not worry that this initial phase looks messy. The dough will come together when 1/2 of the flour is incorporated.
Start kneading the dough with both hands, using the palms of your hands primarily. Once you have a cohesive mass, remove the dough from the board and scrape up any left over crusty bits. Lightly flour the board and continue kneading for 3 more minutes. The dough should be elastic and a little sticky. Continue to knead for another 3 minutes, remembering to dust your board when necessary. Wrap the dough in plastic and rest for 30 minutes at room temperature. Note: do not skip the kneading or resting portion of this recipe because they are essential for a light textured pasta.
Bring 6 quarts water to boil and add 2 tablespoons salt. Place tortelli carefully in water, lower heat to high simmer, and cook 3 to 4 minutes until tender.
Filling:
2 cups ricotta cheese
1 cup mascarpone
5 cups Swiss chard or spinach
Pinch of Nutmeg
1 cup Parmigiano Reggiano (plus ½ cup for garnish)
In a mixing bowl, stir together cooked and drained greens, ricotta, mascarpone, Parmigiano, and nutmeg until well blended and season with salt and pepper.
Lay pasta sheets out on to work surface and cut into 2 inch squares. Place 2 teaspoons cheese and greens mixture in center of each and fold into rectangles, pressing firmly on all edges to seal.
Sauce:
1 stick of butter
10 Sage leaves
salt and pepper
Melt butter in a 12 to 14 inch saute pan and add sage leaves. Drain tortelli carefully and place in pan with butter. Toss to coat and serve immediately with a sprinkling of grated Parmigiano cheese and garnish with buttered sage leaves.
Enjoy!!!!