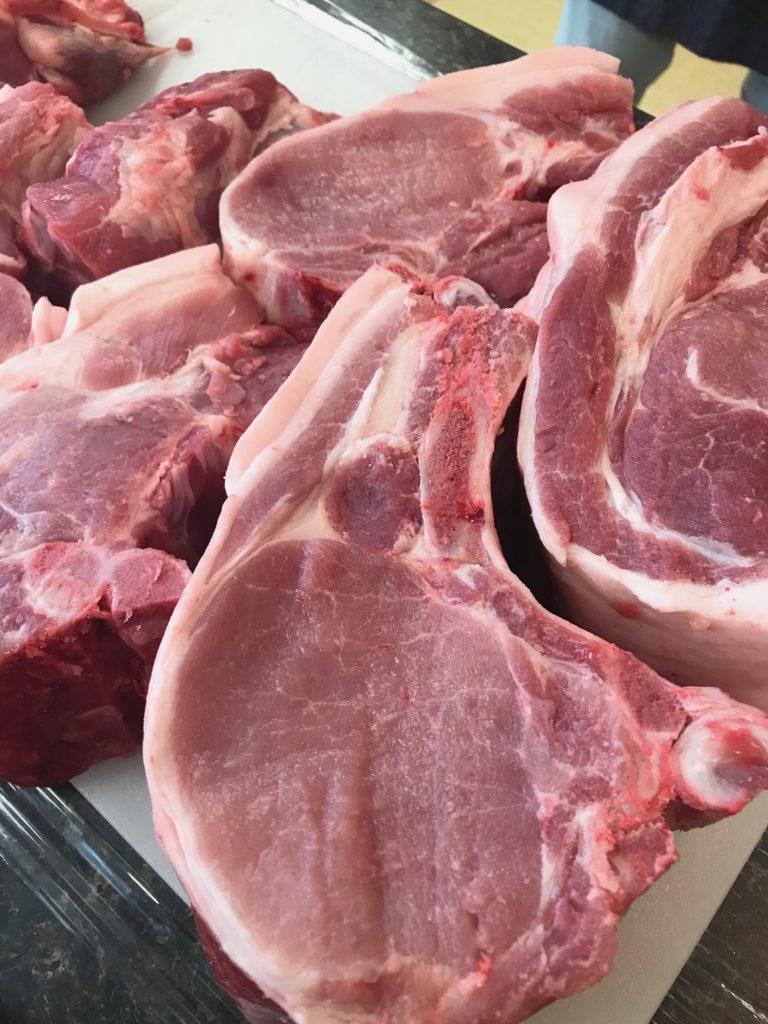 Remember when we used to hear the phrase "Pork: The Other White Meat" ?  Well, that's when pork was competing with poultry to get the message out that lean pork has roughly the same amount of total fat and saturated fat as white meat chicken.  But today the phrase has moved on to "The Redder the Better" to let consumers know that the red color in fresh pork indicates good quality in taste, texture and nutrition.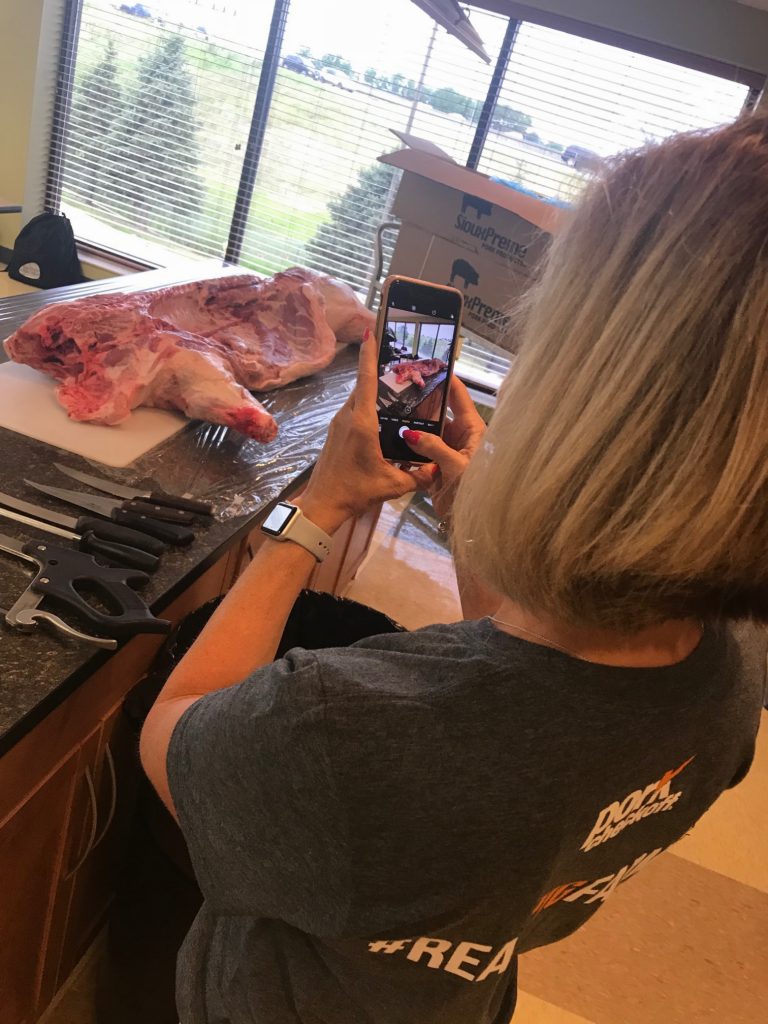 I learned a lot about today's pork production and the good news on pork nutrition during a recent trip to Des Moines, Iowa where they know a thing or two about pork – Iowa is the number one producer of pork in the USA. Next in production is North Carolina.
Since so many of us want to know more about where our food is coming from and how it's produced I decided to accept the invitation of the National Pork Board to join a group of registered dietitian colleagues to visit a pig farm, learn about animal welfare, pork production and get into a cooking class to create some wonderful recipes for a delicious lunch starring…you guessed it….Iowa pork!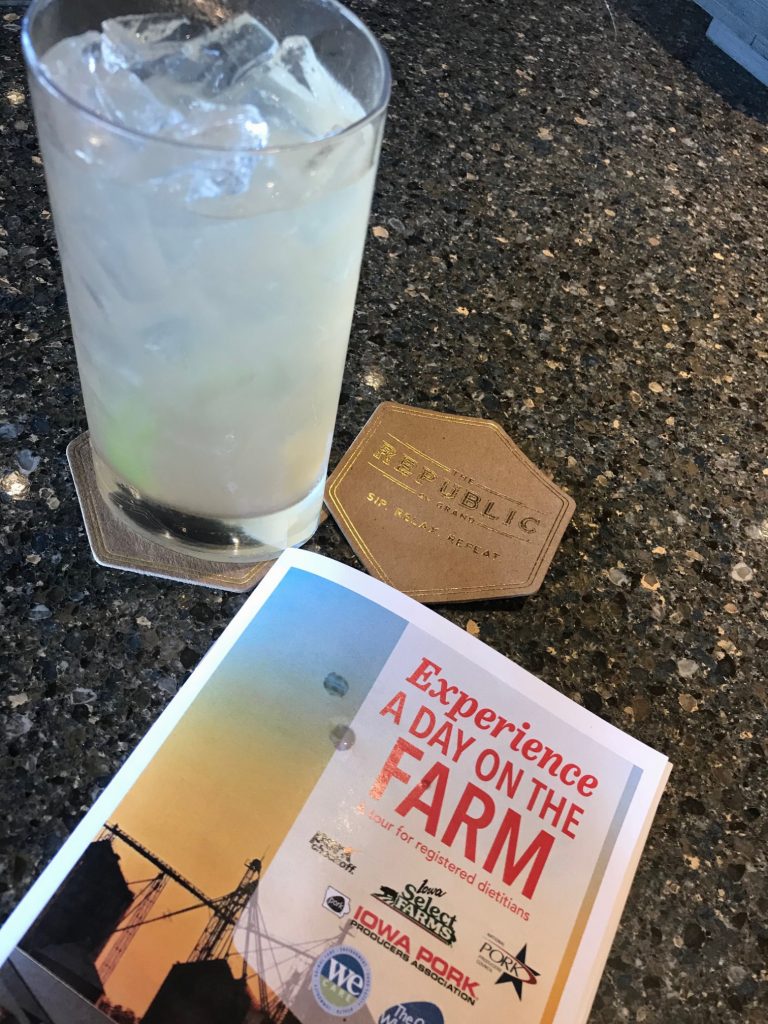 So did you know that when you visit a pig farm you have to take a shower before meeting the piglets and the moms? Yup. It's to protect the health of the animals from the potential germs visitors might bring onto the farm. So after learning about Biosecurity from the pork producers, we showered "in" and then after spending time with the little pigs we showered "out" to make sure we weren't taking any germs from the farm out into the world that might end up on another farm. They're very careful about taking good care of the animals throughout their lifecycle.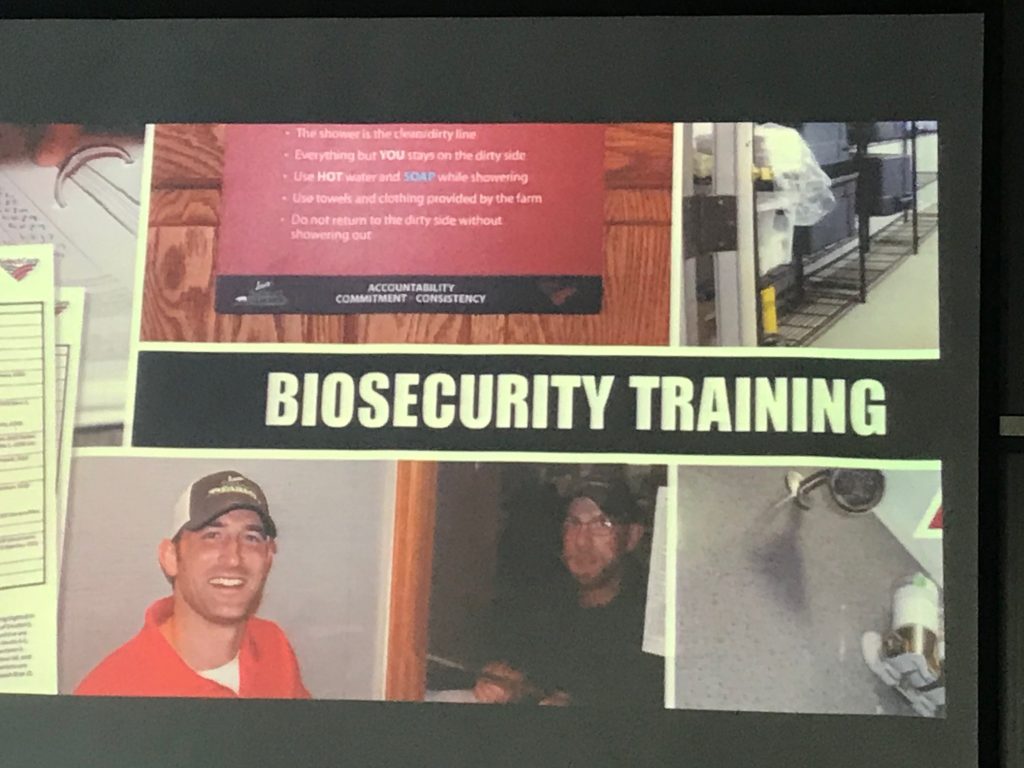 Biosecurity measures on pig farms today including shower in and shower out for visitors, positive pressure filtered air and other measures have helped to increase the number of healthy animals raised to go to market. It also means less use of antibiotics to treat sick animals.  Pigs are raised indoors in Iowa and most states to protect them from super hot weather in summer, super cold weather in winter and the natural pathogens and predators that might prey on the pigs. They have constant access to clean water and are fed on a schedule regulated by veteranarians who specialize in animal nutrition.  Keep in mind that all pork in your supermarket on restaurant menus today is antibiotic free. There are no residues of antibiotics allowed in meats at all. If a farmer uses an antibiotic to treat a sick animal, the animal is either removed from production or the strictly specified number of days are followed for the antibiotics to be gone from the animal's system.
PORK NUTRITION TODAY
Sure pork is a great source of protein, but it's nutrient rich in so many other categories too including vitamins and minerals. Check this out: A 3-ounce serving of pork is an excellent source of thiamin, selenium, niacin, vitamin B6 and phosphorous. And it's a good source of riboflavin, zinc and potassium
Plus, did you know that today's most popular cuts of pork have less total fat and saturated fat than they did decades ago? In fact, lean cuts of pork like the 'loin' cuts like tenderloin, loin chops and pork loin are recognized by the American Heart Association as a "heart healthy food"!
COOKING PORK TODAY
Because pork cuts are leaner than they used to be and especially when choosing loin cuts make sure NOT to overcook pork. According to the National Pork Board, (as set by the US Department of Agriculture food safety experts) pork should be cooked to an internal temperature of 145 degrees F with a 3 minute rest as it continues cooking a bit. This will give you a tender, succulent piece of pork and it will be slightly pink as in the photo above.  Use an instant read meat thermometer to easily see if the meat has reached 145 degrees F.   The only difference is when you're cooking ground pork, as with all ground meats, the internal temperature should be 160 degrees F.
MORE DELICIOUS Des Moines Fun!
During our trip to Des Moines and Iowa pig farms we were treated to a tour of the test kitchens at Meredith Publishing, home of Better Homes & Gardens Magazine and so many more great food and lifestyle publications.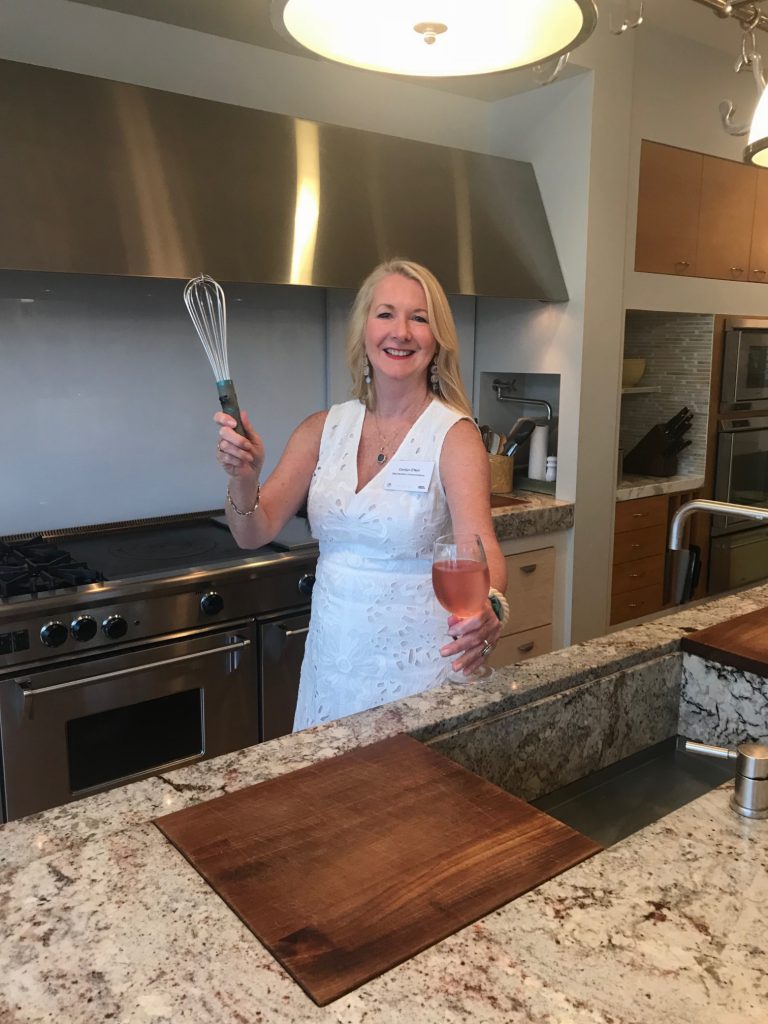 How many of you have the iconic red and white gingham covered Better Homes & Lifestyles Cookbook? The library at Meredith has a collection of these books for home cooks that spans the decades.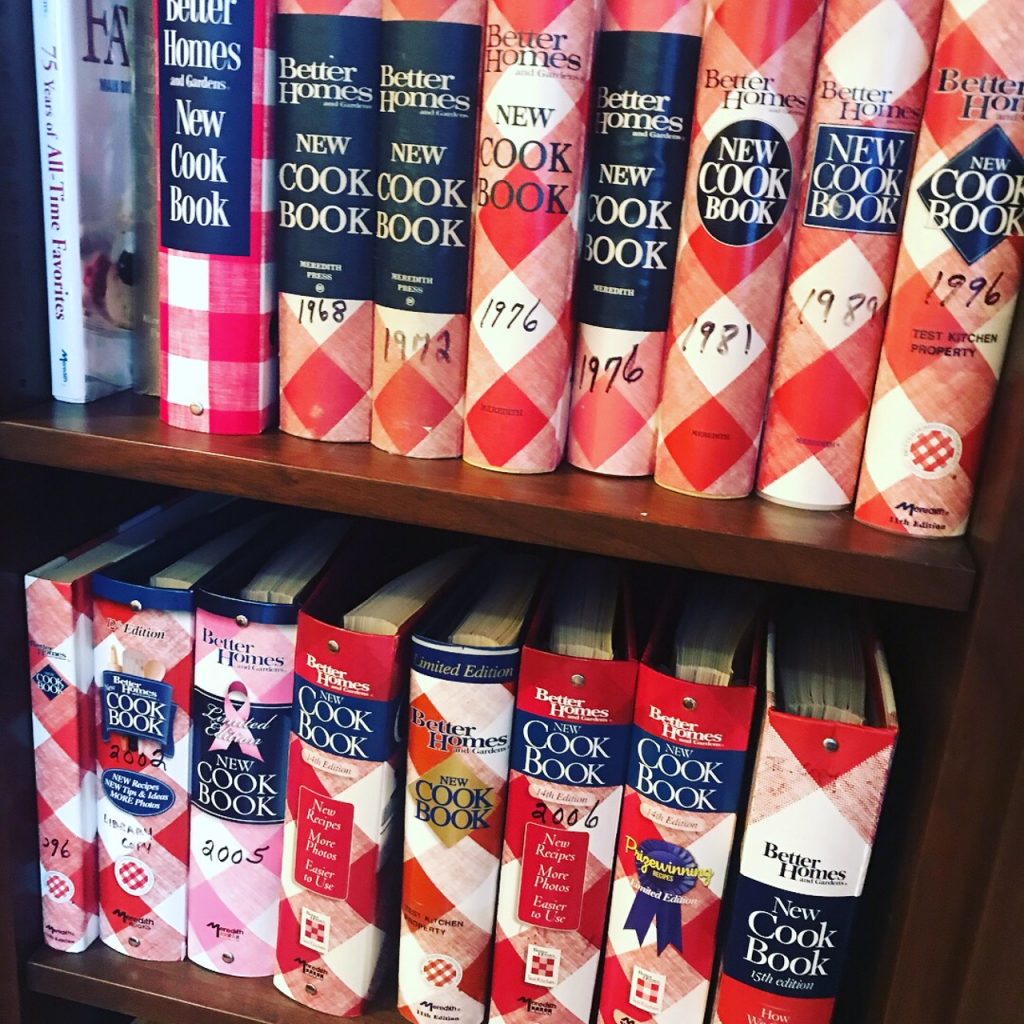 Speaking of Recipes here are the Two Pork Recipes I promised you in the photos above.
And if you'd like to see them on NBC Atlanta & Company here's a link to that TV recipe demo.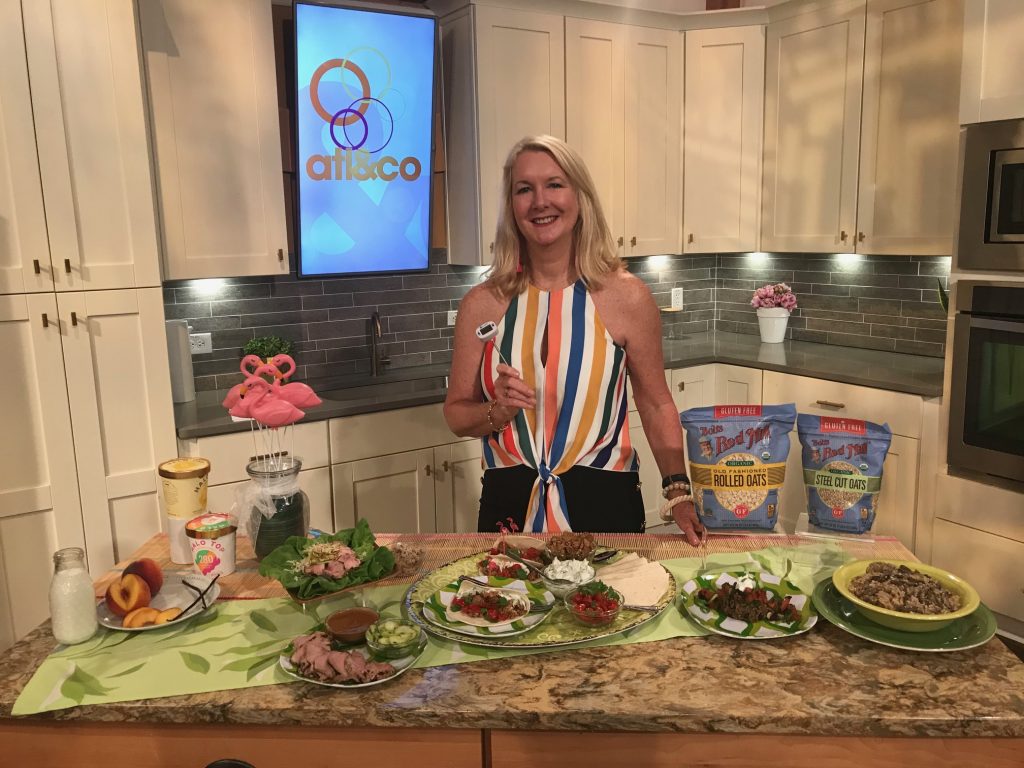 Coconut Pork and Cucumber Lettuce Wraps
Ingredients
 For the Pork
2 TBLS canola oil
4 pounds tenderloin
1/2 teaspoon salt
1/2 teaspoon black pepper
1/2 cup coconut milk
1 TBLS fish sauce
2 cloves garlic
Cucumber
1/4 cup rice wine vinegar
1/4 cup granulated sugar
1/4 teaspoon salt
2 English cucumbers peeled and sliced into half moons
1 shallot thinly sliced
1 serrano chile thinly sliced
1 TBL cilantro chopped
Peanut Sauce
1 cup water
3/4 cup peanut butter
1/2 cup soy sauce
3 TBLS brown sugar
1 1/2 teaspoons granulated sugar
1/4 teaspoon nutmeg
1/4 teaspoon ginger
1 teaspoon cayenne pepper
Toasted Shredded Coconut
Method
For the Pork:
Combine all ingredients and put pork in marinade for 30 minutes.  On seasoned grill heated to medium high, cook pork until internal temp reaches 145F, let rest 3 minutes and slice.
For the Cucumber:
 Combine vinegar, sugar, and salt and stir until sugar is dissolved.
Stir in remaining ingredients and let marinate for at least 30 minutes – 1 hour before serving.
For Peanut Sauce:
Combine all ingredients in a bowl.
For Coconut:
In a dry non-stick skillet over medium heat, toast coconut tossing every minute so it doesn't burn, remove once lightly toasted and transfer to bowl to cool
Place meat, cucumbers, in lettuce wraps a top with peanut sauce and toasted coconut.
Tandoori "Chorizo" Tacos
Ingredients                                                       Amount
Ground Pork                                                    2 pounds
Kashmiri Chile Powder                                     2 Tablespoons
Garlic Puree                                                     1 teaspoon
Ginger Puree                                                    1 teaspoon
Ground Coriander – Toasted                             ½ teaspoon
Ground Cumin – Toasted                                  ½ teaspoon
Garam Masala                                                  1 teaspoon
Kosher Salt                                                      2 teaspoon
Ground Black Pepper                                       1 teaspoon
Chopped Cilantro                                             2 Tablespoon
Fresh Lemon Juice                                           1 Tablespoon
Garnish
Cherry Tomatoes – cut in eight                       1 pint
Cilantro – chopped                                          ½ bunch
Flour Tortillas or Chapati Roti                         2 dozen
Cucumber Raita
Greek Yoghurt                                                 1 pint
Seedless Cucumber – Grated                              1 each
Salt                                                                  ½ teaspoon
Preparation Method
Toast cumin and coriander until fragrant. Add all ingredients to a mixing bowl and let sit for 30 minutes covered in a refrigerator. In a skillet over medium-high heat, preferable non-stick, add meat without oil and let cook for 5-7 minutes until a dark crust is formed. Break up meat with a spatula and stir until meat reaches 165F. Finish with a squeeze of lemon.
To Build Tacos
Warm tortilla, top with meat, tomatoes, cucumber raita, and chopped cilantro